John Button was an English rallycross driver and the father of 2009 Formula One World Champion Jenson Button. Button was known as the 1976 British Rallycross Championship runner-up.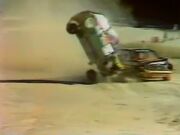 In 1979 he was involved in a spectacular accident in which he nudged the Mini of Paul Springett, causing it to roll "end over end over end".
Button died at the age of 70 in his home in the south of France from a suspected heart attack on 12 January 2014.
In memory of the late John Button the organisers of the Retro Rallycross Challenge in 2015 created the so-called John Button Memorial Trophy, which is the annual award presented to the Retro Rallycross Driver of the year. Current holder Ray Morgan met Jenson Button recently at Lydden Hill where John Button's son was able to make a personal presentation of the Trophy.