Jérôme Grosset-Janin (born 19 June 1989) is a French rallycross driver from Sallanches, Haute-Savoie.
Biography
Edit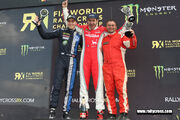 Jérôme began his motorsport career in ice racing in 2003 and contested the 2005 Andros Trophy where he secured 14 podiums from 14 races. The following year, aged 22, he switched to rallying in the French Asphalt Rally Championship, finishing third to become the youngest driver to win a rally and reach the podium.
In 2009, Jérôme moved back to rallycross, finishing third in the French Rallycross Championship in 2010 and 2011. In 2012 he finished runner-up and in 2013 was crowned French Rallycross Champion. In 2014 he piloted a Clio in the British round of the European Rallycross Championship, and immediately showed his potential by finishing 6th overall in the heats.
In 2015 Jérôme raced a full-time campaign in Euro RX with Albatec Racing, winning in Belgium on his way to second in the championship to Tommy Rustad.
Grosset-Janin has also had various wildcard entries into the FIA World Rallycross Championship, with a best result of 6th at the British and French rounds of the 2014 season.